Just like most of you, Cranberry Sunset Farm has experienced a rough year. Unfortunately, we lost one of our favorite horses, Ziggy. He was our "starter" horse, the first horse the kids would ride when they came to the farm. We made  a tribute video in his honor, we hope you enjoy it.
A Little More About Us
Cranberry Sunset Farm rescues horses/animals and trains them to work with children of all abilities. We teach children where food comes from in our garden program and encourage movement in our dance/movement class. We have also created a sensory trail system for all to enjoy on foot or on horseback. The moment you arrive, we challenge your balance, coordination, vision and hearing on our mini-trail, preparing your brain for the next level of our program. Our 30-acre farm is located in the village of Marstons Mill.
We are more than a therapeutic riding center. We want to brighten a child's future and build a stronger community at the same time.
Our horses are trained, exercised, and handled daily. We ask them to provide one lesson/day. They receive plenty of turnout, and show their gratitude by always taking care of their rider. In addition to our riders, our top priority is the horse. Taking care of their backs with our unbalanced riders is a big concern for us. Parents can participate as much as they would like and siblings are invited to ride too. Our program is volunteer-based, we are always looking for volunteers! Contact us to learn more.
The mission of Cranberry Sunset Farm is to build upon each individual's ability by providing them life skills and opportunities to succeed by overcoming particular obstacles, thus becoming more self-sufficient in their own lives.
"When one door closes another opens" …that's how Cranberry Sunset Farm began. I was moving back to the US and my show horse never made transport (she had been taken), and I never saw her again.
I never thought I would ride a horse again, until one day a "new" friend asked me to help her set up stalls for her rescue horses who were due to arrive sometime that day. And that's when I started rescuing horses—saving horses who were being used to make a drug called Premarin. The mares were used to collect urine 23 hours per day, their foals were by-products, and the majority were sent to auction/slaughter. After fighting to get a limit of how much horse meat could be exported, after 30 years, Premarin was slowly taken off the market. Our first 10 rescues, of our 38 horses, were Premarin foals. The other rescues were from neglect, abusive situations, financial situations, and those who could no longer take care of their horses.
After we had half-a-dozen riding horses, we decided to put passion and profession together, beginning to use the great-natured horses with disabled children.
The horses were professionally trained around children, balls, strollers, bikes, noises, and educated in a gentle, calm environment. We had plenty of time and patience to work with all different personalities. Every horse knows their job at our rescue.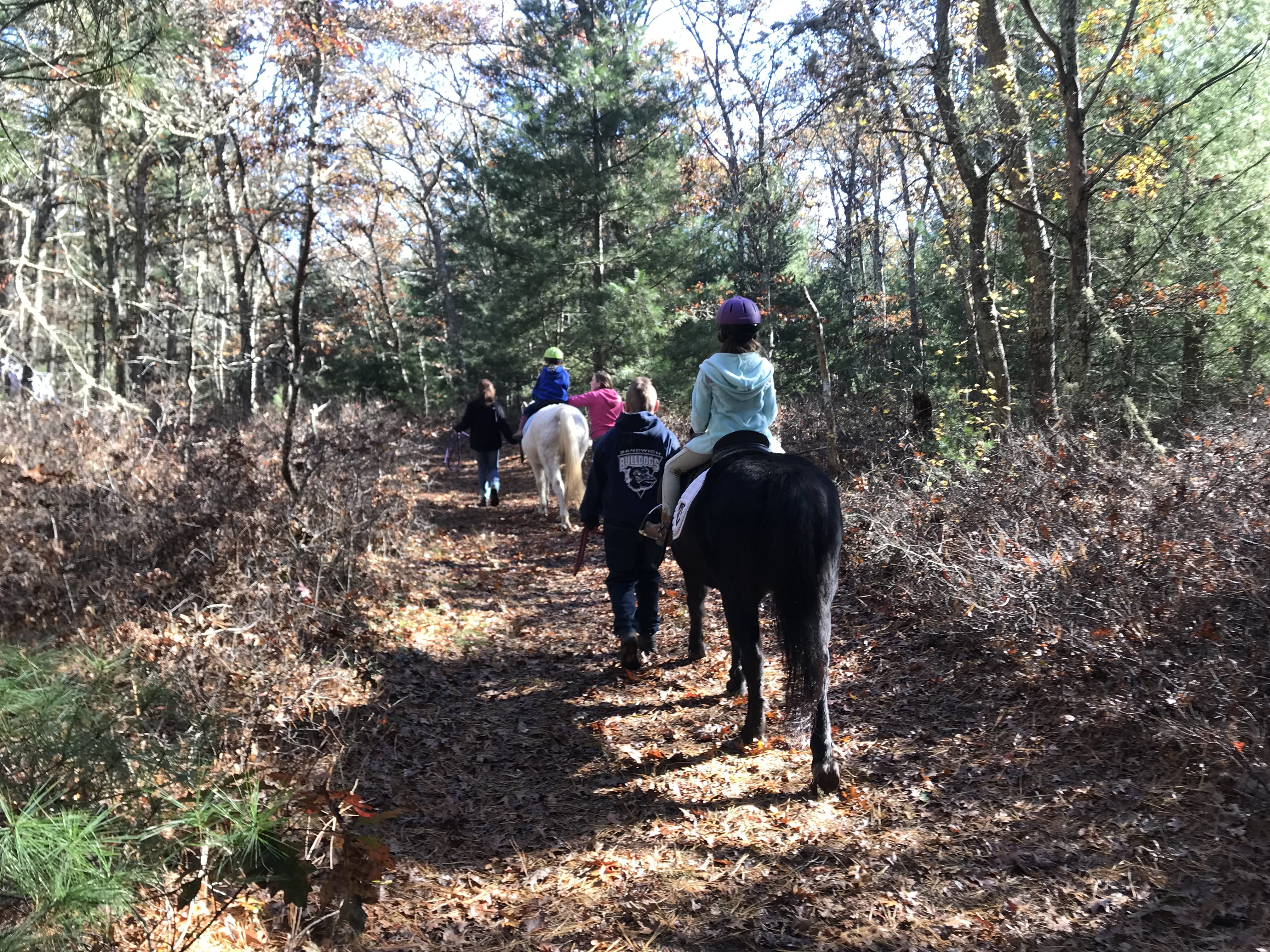 Evaluation required with physician's approval. Our programs are organized between families and the program coordinator.
In addition to our riding program, we offer Yoga, Garden Club, and our Summer Farm Life program.
We are a 90% volunteer-based facility. Volunteer groups consist of the following:
1. Morning groups: light chores, grooming, hand-walking
2. Side walkers: trained to walk alongside horses while interacting with the child
3. Horse leaders: trained to handle the horses, be pro-active in situations, align horses with games on sensory trails, and understand horse body language
4. Groundskeeping / garden / cranberry bog
5. Fundraising / events
6. Art enthusiasts for crafts, summer program and sensory trails
7. Grant writer
We provide training for all volunteers. Please contact us if you are interested.
100% of donations goes toward our animals and children's programs
Programming
We are not just a therapeutic riding center. We provide a safe environment for individuals of all abilities to learn life skills which will help to improve their futures and make our communities more productive.
Riding lessons
Scouts projects
School trips
Horsemanship (on ground)
Visits from local organizations
Garden to Table program
Community service hours
Job coaching
Music and Motion Program